Anne Bruinsma wins Agrifood Data Innovation Award
republished from: VIAS, 13 December 2017
And the winner of the VIAS Agrifood Data Innovation Award goes to FarmHackNL Anne Bruinsma!
Throughout the whole agrifood production chain, data is a growing oil, both fueling new businesses and lubricating processes. And agrifood is an exciting and relevant domain for data scientists to demonstrate the value that data innovation can bring.
The Society for ICT in Agriculture, Food and the Green Environment (VIAS) promotes ICT and data innovations in agrifood and encourages young talents to pursue careers combining agriculture and ICT.
It is for that reason that VIAS started the AGRIFOOD DATA INNOVATION AWARD, to raise awareness for the importance and excitement of ICT opportunities in our living environment and our food production.
The AGRIFOOD DATA INNOVATION AWARD is a price for an innovative action, research, product, service or startup. The Award stands for a positive societal impact, enforcing the connection between ICT and Agrifood and demonstrates data innovation.
The Jury selected nominees from the wide range of companies, many of which are present at this AgrifoodTechPlatform Conference and fair and at universities and science institutes. In the last round two candidates 'survived' and the winner was selected between those two.
The Jury wants to give a special encouragement to the runner up: Puck Mulders, Student Data Science aan de TU/e. She wrote an MSc thesis about a scientific data exploration of farm-generated data, to improve precision farming practices. Her work showed the complexity of data analysis in real, non-laboratory environments and she managed to overcome many of the data difficulties as missing values, noisy data sets and other typical issues.
This brings us to the winner of the first VIAS AGRIFOOD DATA INNOVATION AWARD: Anne Bruinsma.
Anne exchanged her job at the ministry of agriculture to create a start-up on awareness creation and co-innovation management of ICT in agriculture. With an unequalled energy and enthousiasm she has been organising many events and hackathons bringing young hackers in contact with established scientists and more importantly with farmers. During the many different events that she hosted, farmers put up challenges that were taken up by teams that worked on it and produced results in a short time frame. These events have created a great flow of creativity throughout the agricultural sector in the Netherlands. One concrete product she made possible is the Boer&Bunder, an intuitive website combining many open data sources, that farmers could use and try out.
The Jury wants to give Anne this prize, not just for her achievements but also – maybe even more importantly – for creating and energising a process of innovation. She fuels these processes constantly and hence delivers a great contribution to data innovation in agriculture.
The Jury, consists of Elies Lemkes, Arnold Bregt and Tamme van der Wal, unanimously chose Anne Bruinsma as the winner of this first award.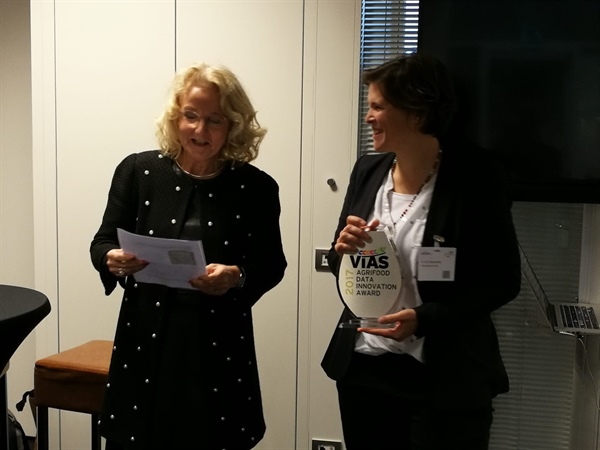 photo credits: VIAS